Pre-orders are now being taken for The Simple Carnival's fantastic final album, Smitten!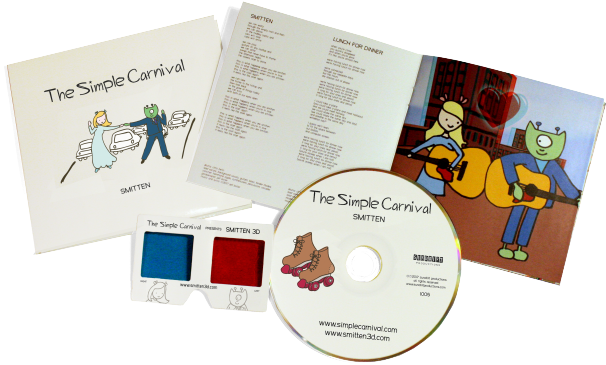 Seven years in the making, Smitten is eleven tracks of meticulously-crafted power pop bliss. It's as if Steely Dan, Fleetwood Mac, Todd Rundgren, Burt Bacharach, and The Beach Boys decided to lock themselves in a recording studio for the better part of a decade to see what would happen.
Because the album is all about infatuation (and what happens afterward), Smitten will be released on Valentine's Day (February 14) 2017.
The CD version includes a free mp3 album download, a handsome 12-page lyric booklet, and an exclusive 3D viewer for viewing The Simple Carnival's 3D music videos, like the title track:
Or you can pre-order just the mp3s and receive the download link on Valentine's Day 2017. (You'll have to find your own pair of 3D glasses, though.)
Not ready to pre-order? No problem! Sign up for The Simple Carnival's mailing list so you'll know when the album is out:
In the meantime, listen to some songs from the album or watch their accompanying award-winning videos (in 3D!).