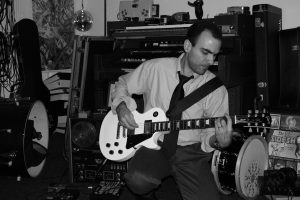 The Simple Carnival is the musical moniker of Pittsburgh-based singer/songwriter Jeff Boller. It was active from 2001 to 2017.
Taking its musical cues from The Beach Boys, Todd Rundgren, Steely Dan, Fleetwood Mac, Harry Nilsson, Burt Bacharach, and Electric Light Orchestra, The Simple Carnival created perky, lilting, darkly humorous, and mildly trippy songs meant to be hummed throughout the day.
The Simple Carnival earned raves from the power pop press in 2008 with its second full-length album, Girls Aliens Food. The album appeared on a number of year-end "best of" lists and eventually spawned a small cult following in Japan. After a seven year gestation period, The Simple Carnival's third and final album, Smitten, was released in early 2017.
Prior to the Smitten album, Boller played all of the instruments on The Simple Carnival's recordings, overdubbing them one part at a time in his basement studio. The Smitten album had Boller playing most of the instruments, but the sound was augmented by several outside musicians and vocalists. Because of the impracticality and expense involved with recreating its meticulously-produced studio sound, The Simple Carnival never performed any live shows.
In addition to having helmed The Simple Carnival, Boller is also an award-winning filmmaker. He is currently working on Smitten 3D, an animated music video movie that, when completed, will serve as a companion piece to the Smitten album.
You can read more about the current state of The Simple Carnival here.
Menlo Park EP (2004, Sundrift Records)
Sonic Rescue League Vol 1 (2006, Sundrift Records)
Me and My Arrow EP (2008, Sundrift Records)
Girls Aliens Food (2008, Sundrift Records)
Girls Aliens Food (2012 remastered edition with bonus tracks, Disques Dessinee)
Smitten (2017, Sundrift Productions)
Get The Simple Carnival's fantastic final album, Smitten, from Bandcamp or iTunes!