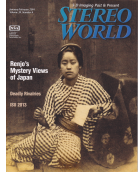 Here's an article I wrote about a 3D effect called "retinal rivalry." It was published in the latest issue of Stereo World, magazine of the National Stereoscopic Association:
The Seven Deadly Rivalries (PDF)
My Halloween costume is on the
back cover of the magazine
, and
my mug is also in an article about for winning an award
at the LA3D Movie Festival.
I don't think I've ever taken up seven pages of a magazine before, but thanks, guys! It's a real honor.