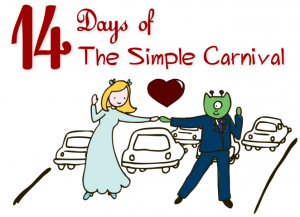 Welcome to Day 1 of the 14 Days of The Simple Carnival!
Every day until February 14 (Valentine's Day), I'll be posting one cool, free Simple Carnival thing.
On February 14, The Simple Carnival's new (and final) album, Smitten, will be released. It's been nine years since The Simple Carnival has released an album, so I'd like to celebrate the occasion by sharing a bunch of good stuff over these 14 days.
* * * * * * * * * *
Most of the things I'll be posting in the next two weeks will be brand new. However, today we're going to begin with the best starting point for anyone who is unfamiliar with The Simple Carnival's music. Today's free thing is a download of The Simple Carnival's critically-acclaimed 2008 album, Girls Aliens Food: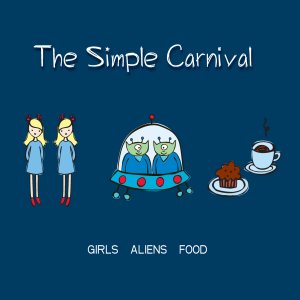 Girls Aliens Food was originally released on my own Sundrift Records (now Sundrift Productions) label. In 2012, a remastered Girls Aliens Food CD was released in Japan on the Disques Dessinee label. Today's download is the remastered Japanese release, minus the bonus tracks that were part of that release.
UPDATE (February 14, 2017): This download has been removed since the Smitten album has been released. If you'd like to get the Girls Aliens Food album, you can find it on Bandcamp and iTunes.
* * * * * * * * * *
Get The Simple Carnival's fantastic final album, Smitten, from Bandcamp or iTunes!