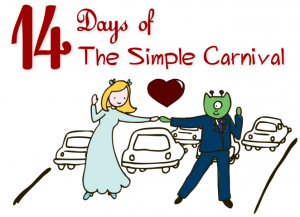 Welcome to Day 7 of the 14 Days of The Simple Carnival!
Every day until February 14 (Valentine's Day), I'll be posting one cool, free Simple Carnival thing.
On February 14, The Simple Carnival's new (and final) album, Smitten, will be released. It's been nine years since The Simple Carnival has released an album, so I'd like to celebrate the occasion by sharing a bunch of good stuff over these 14 days.
* * * * * * * * * *
Yesterday's trivia question asked a question about the song "Smitten" — the title track to The Simple Carnival's upcoming Smitten album. Today's Simple Carnival thing is a behind-the-scenes video about how the Smitten video was made.
First, here's the finished video for the song "Smitten", in case you haven't seen it:
And here's the behind-the-scenes video (skip to the 20 min mark):
* * * * * * * * * *
Get The Simple Carnival's fantastic final album, Smitten, from Bandcamp or iTunes!