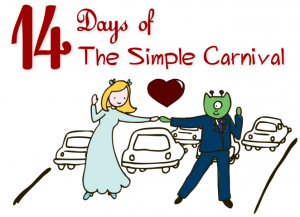 Welcome to Day 6 of the 14 Days of The Simple Carnival!
Every day until February 14 (Valentine's Day), I'll be posting one cool, free Simple Carnival thing.
On February 14, The Simple Carnival's new (and final) album, Smitten, will be released. It's been nine years since The Simple Carnival has released an album, so I'd like to celebrate the occasion by sharing a bunch of good stuff over these 14 days.
* * * * * * * * * *
As I mentioned in yesterday's post, I've been working on a companion piece for the upcoming Smitten album. It's a music video movie called Smitten 3D, and yes, it's in 3D. While the album is being released on the 14th of this month, it will be several more years until the movie is complete. Not exactly the most ideal marketing strategy, but if you're doing almost everything yourself, what else can you do?
Since I began working on Smitten 3D, I started exploring everything that was 3D-related. Along the way, I acquired this: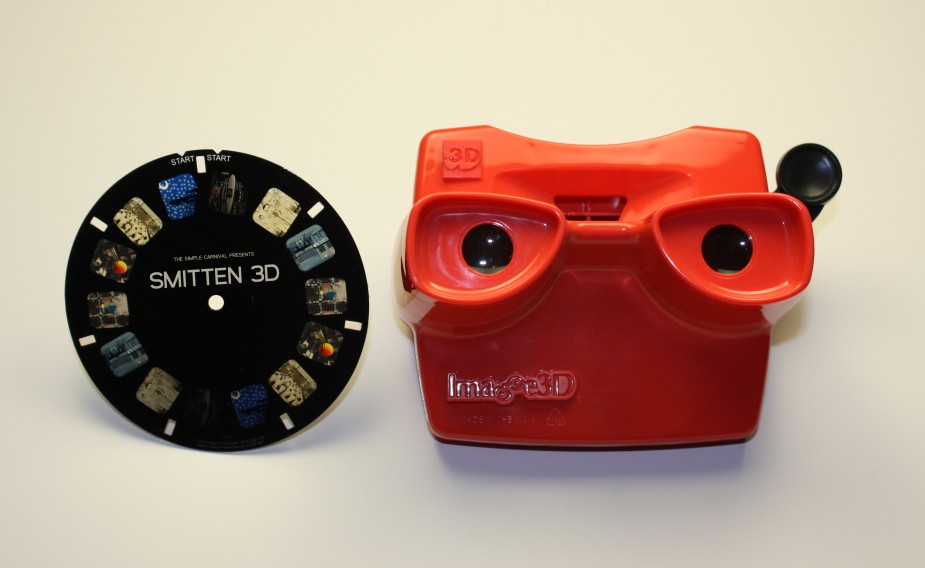 This is a ViewMaster reel courtesy of Image3D along with a ViewMaster viewer.
(Technically speaking, this is not a ViewMaster reel or viewer, as Image3D goes out of its way to not use that word. But you can use actual ViewMaster reels in the Image3D viewer, and the Image3D reels can be viewed in a real ViewMaster viewer. From a functional standpoint, what Image3D is providing is basically the same thing as the ViewMaster name brand stuff.)
The ViewMaster is an old toy that has been around since the 1930s and was kind of like an early virtual reality device. When you hold the ViewMaster viewer up to your eyes, you can see the various images on the reel in 3D.
This reel contains seven images from Smitten 3D. It's a one-of-a-kind reel. I'm not printing up any reels beyond this one. I'm giving it — as well as this viewer — away for free to a Simple Carnival fan. I'll pay for shipping to anywhere in the world. To get a chance to win this reel and viewer, however, you must tell me the correct answer to the following trivia question before midnight EST tonight:
How many rhymes are there in the song "Smitten"?
Send your response as a message to (deleted) . The winner will be drawn out of a hat. The name will be announced here on this site as well as Twitter.
UPDATE (February 7, 2017): And the winner is…Steven Golden! Congrats!
* * * * * * * * * *
Get The Simple Carnival's fantastic final album, Smitten, from Bandcamp or iTunes!