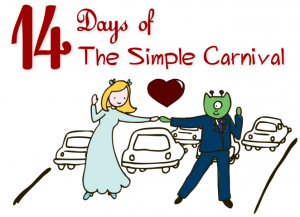 Welcome to Day 11 of the 14 Days of The Simple Carnival!
Every day until February 14 (Valentine's Day), I'll be posting one cool, free Simple Carnival thing.
On February 14, The Simple Carnival's new (and final) album, Smitten, will be released. It's been nine years since The Simple Carnival has released an album, so I'd like to celebrate the occasion by sharing a bunch of good stuff over these 14 days.
* * * * * * * * * *
My apologies that today's Simple Carnival thing is not something new. If you're a long-time fan, you may have already seen this. But tomorrow's Simple Carnival thing is connected to this, and I thought it might be a good idea to trot out this behind-the-scenes video out for those who haven't seen it yet.
"A Geek Like Me" is a track on the upcoming Smitten album, as well as part of the 3D animated music video movie Smitten 3D. First, here's the finished video.
And here's the behind-the-scenes video (skip to the 6 min mark):.
Tune in tomorrow — I'm going to be giving away something interesting relating to this video.
* * * * * * * * * *
Get The Simple Carnival's fantastic final album, Smitten, from Bandcamp or iTunes!